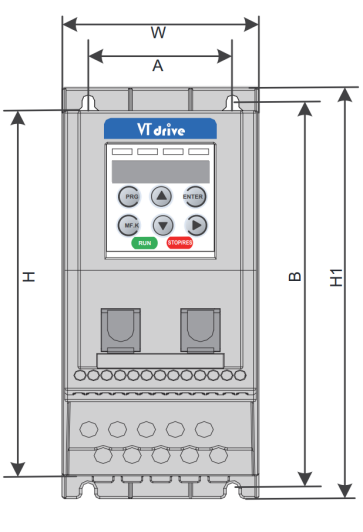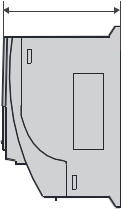 1.2 General Specifications
Voltage class

200 to 240VAC

Model: FIE1N***B(1)

0.4

0.75

1.5

2.2






Dimension(2)

Height Width Depth

[H]: 180 mm [W]: 75 mm [D]: 145 mm

Mounting Hole, [mm]

Φ5.0

Drive Input

Rated Input voltage

1 PH, 200 to 240 VAC , -15% to +10%

Rated input current, [A]

6.5

11.0

18.0

27.0




Rated input frequency

50/60 Hz, ±5%

Power capacity, [kVA]

1.7

3.0

4.8

7.1




Drive Output

Applicable motor

[kW]

0.4

0.75

1.5

2.2




[HP]

0.5

1

2

3




Output current, [A]

2.6

4.6

8.0

11.0




Default carrier frequency, [kHz]

6

6

6

6




Overload capacity

150% for 60 Sec

Max. output voltage

3 PH, 0 to 240 VAC

Max. output frequency

50 to 500 Hz

Braking Resistor

Recommended power, [W]

80

80

100

100




Recommended resistance, min. [Ω]

200

150

100

70




Weight, [kg]

1.1
Note
(1): "B" denotes build-in brake function. (2): The dimensions are shown as below:
2 Wiring
2.1 Typical System Connection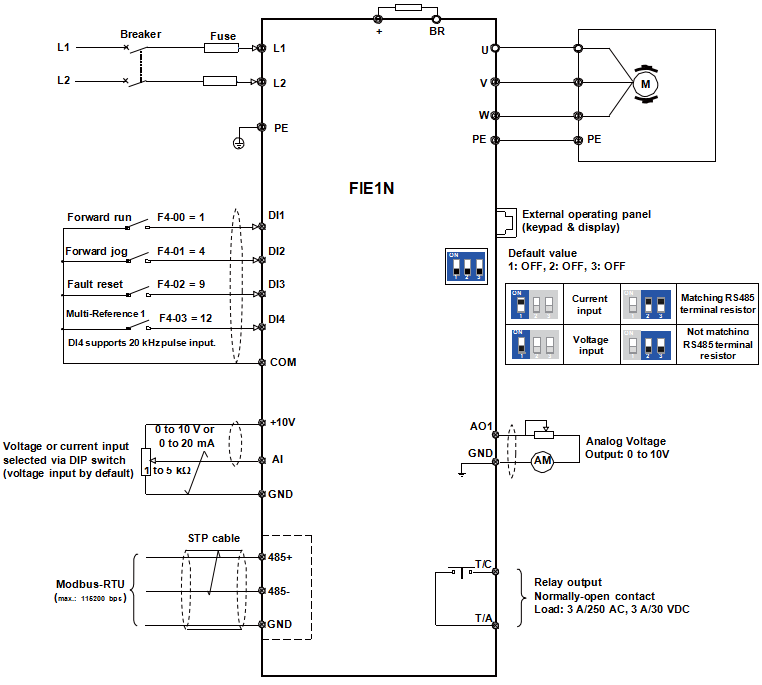 Note
For the DI terminals, low level is valid and valid level is < 5 V, input resistance is 3.6 K, DI1 to DI3 satisfies 100 Hz frequency input, and
DI4 satisfies 20 kHz frequency input. The requirement of pulse duty cycle is 30% to 70%.